Customer Support - Knowledge Base
HP Sprocket Plus Printers Specifications
This document is for HP Sprocket Plus Printers.
Review this document for detailed technical data, such as product numbers, system requirements, print speeds, connectivity types, physical dimensions, power supply, paper handling, and printing specifications.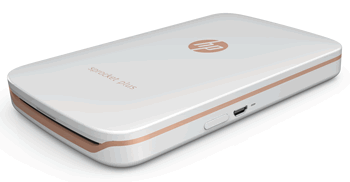 Printer specifications
Specification

Description

Product numbers

2FR85A (White)

2FR86A (Black)

2FR87A (Black)

Dimensions and weight

141.9 x 89 x 18 mm (5.59 x 3.50 x 0.71 in)

0.205 kg (0.45 lb)

Connectivity

Bluetooth 4.0

Printer management

HP sprocket app

Power supply

Up to 30 prints per charge

Internal rechargeable battery

900 mAh Li-Polymer

Charge time

Up to 120 minutes

Power consumption

0.73 W (standby)

Average 17.6 W (based on first print)

Maximum 21.5 W at 25° C (77° F)

Print technology

Thermal printing with a ZINK® Zero Ink® printer

note:

The printer does not use ink cartridges to print.

Supported paper

HP Sprocket Plus Photo Paper

5.8 x 8.7 cm (2.3 x 3.4 in)

Borderless printing

Yes

Support file types

BMP

GIF

JPEG

PNG

TIFF (iOS only)

note:

If you send a non-supported file type, the print job does not print.

Paper tray capacity

Up to 10 pages with the orange Print Quality Card (formerly Smartsheet)

Memory

Up to 512 MB

Print quality

330 x 600 dots per inch (dpi)

Print speed

Up to 40 seconds

Mobile operating systems and devices

Supported by Android mobile devices with OS 4.4 and later, and iOS 10.0.2 and later

Compatible with Apple iPhone X, iPhone 8, iPhone 8 Plus, iPhone 7, iPhone 7 Plus, iPhone SE, iPhone 6x, iPhone 6s Plus, iPhone 6, iPhone 6 Plus, iPhone 5s, iPhone 5c, iPhone 5, iPad Pro 12.9-inch (2nd generation), iPad Pro 10.5-inch, iPad (5th generation), iPad Pro 9.7-inch, iPad Pro 12.9-inch (1st generation), iPad Air 2, iPad Air, iPad mini 2, iPad mini 3, iPad mini 4, iPad (4th generation), and iPod touch (6th generation)

Control panel

Power button

Reset button

Charging Indicator Light

Status Indicator Light

Environmental parameters

Operating humidity: 5% to 70% RH (recommended)

Non-operating humidity: 5% to 90% RH

Operating temperature: 5° to 40° C (41° to 104° F)

Recommended operating temperature: 15° to 32° C (59° to 90° F)

Storage temperature: -30° to 60° C (-22° to 140° F)

Warranty

One-year limited hardware warranty
Regulatory model number
For regulatory identification purposes, your product is assigned a Regulatory Model Number. The Regulatory Model Number for your product is VCVRA-1713. This regulatory number should not be confused with the marketing name (HP Sprocket Plus Photo Printer) or the individual product numbers.
Material Safety Data Sheets
To view Material Safety Data Sheets (MSDS), (in English).
This product generates no appreciable ozone gas (O3).
HP offers an increasing number of product return and recycling programs in many countries and regions, and partners with some of the largest electronic recycling centers throughout the world. HP conserves resources by reselling some of its most popular products. For more information about the recycling of HP products, go to
/go/recycle
(in English).
Please help us improve by providing feedback on your experience with the document.
---